Untracked
The popularity of ski touring has begun to fill up parking lots and clog trailheads, even in the remote Selkirks. It's not something that bothers me because I understand how amazing it is and I am excited that others are experiencing it.  Really my job as an athlete is to inspire others, and for years I have been blogging about the incredible skiing in Roger's Pass. So in a small part I am responsible for the increase in skier traffic to my local spots.
Some of these spots are really busy, say Connaught drainage in Roger's Pass.  There are times when there are hundreds of people heading up this same valley, and occasionally 30-40 of them are heading to Video Peak.  This peak, that for years was rarely skied, is now shredded by the masses. This increased usage now allows us to ski it more quickly after a storm cycle, the skier traffic cuts up the snow pack and increases our confidence on it.
Yesterday a sunny inversion came in and we were still  wary of some instabilities in the snow pack, especially the surface hoar that grew during that last clear weather spell. This instability should be between 1500-2000 m but could possibly be higher than that. Its a huge concern but knowing that we could get up above 2000 m without exposing ourselves and then have an untracked, skier compacted run made us keen.
So we headed up and soon enough we were breaking trail up hospital gully and into the Alpine. The frigid temperatures of the valley gave way to sunny and warmer alpine temperatures. Standing on the summit we couldn't see anyone anywhere, it felt like Roger's Pass before ski touring was so cool. Seeing that there was nobody rushing up our skin track we sent one nice line down.
Such great skiing.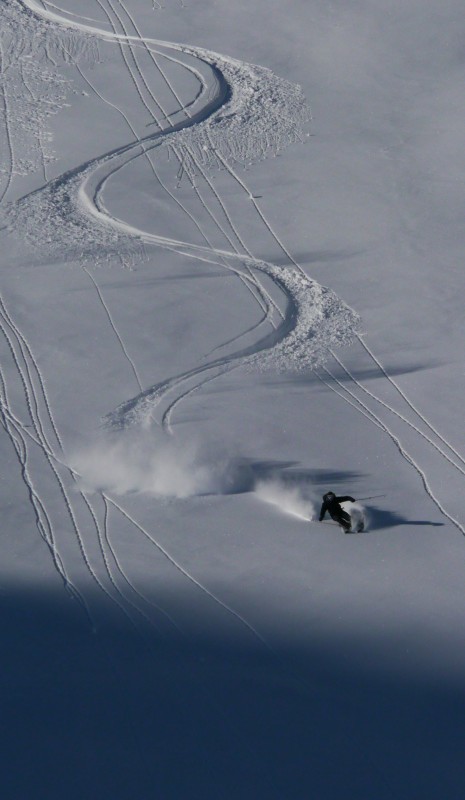 After such a great run, we ate some more and skinned back up for some more love.   Skiers right line this time.
The skiing was off the charts, sunny, stable and fast.  It was still early 1:30 and looking around there was no one rushing up Video.  We recognized how lucky we had been and decided we should leave some powder for the weekend crowd and we headed out.
Another thing I am really enjoying with the evolution of the backcountry is the amount of splitboarders, as in my photos, there is almost a 50/50 split. I have always had a token splitboard partner but more and more I am the token skier.
in