This Saturday Revelstoke Mountain Resort opens up for the season. And I am psyched..  There is something so special about how easily we can access such incredible skiing.  There is an assumption that I do not like ski hill skiing…. well the truth is I love it.. Absolutely love it….  Its where it all began for me, where I learned and progressed, where I am still learning and progressing.  The ease of coming up and shredding great powder in bounds is incredible and the boot pack to the sub summit is somtehing I love. Its long enough that you feel like you are earning it but short enough that you are skiing pretty quickly.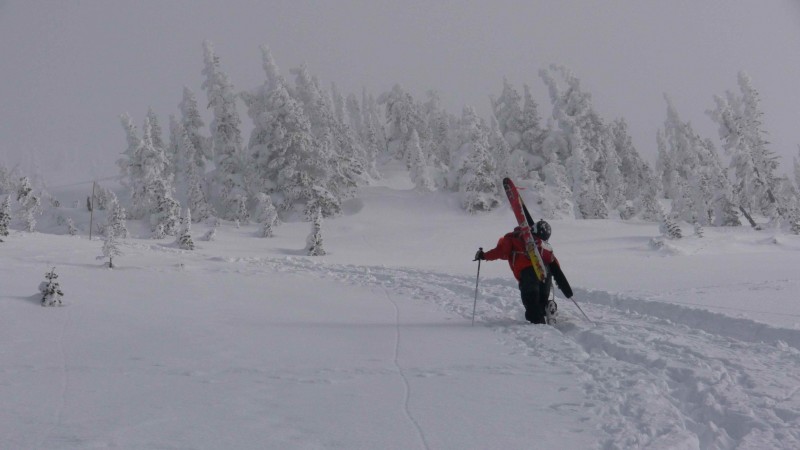 Today Sean Cochrane and I went up the hill to see  how conditions were and they were great. Immediately we headed up the boot pack and onto the south boundary, the south skiing was settled and creamy.  
The views from this hill are off the charts.
For me the biggest attraction is the ease of getting up Mt-Mackenzie and skiing wild alpine lines with 1.5 hour laps. Its crazy how many incredible runs I have had off this summit… only to be back up and repeating it…  Here my skis are psyched on the first summit turns they are about to get, heading down the North East face and into brown shorts….
Brown shorts is one of my favourites, so we had to start with it.  Bad decision… since the winds had blown up it and really hardened the surface….. still what a wild line…
While we skied under into Greely and under North bowl we entered back into soft silky powder. Everywhere we looked we could see that on opening day there is going to be so much great skiing for everyone.  Especially with the 30 cm on the forecast..  I am so excited for opening day and another great year of shredding RMR.
in