Suffering through
The last three days were all about suffering through, wishing that there is light at the end of the tunnel. they were not like last week…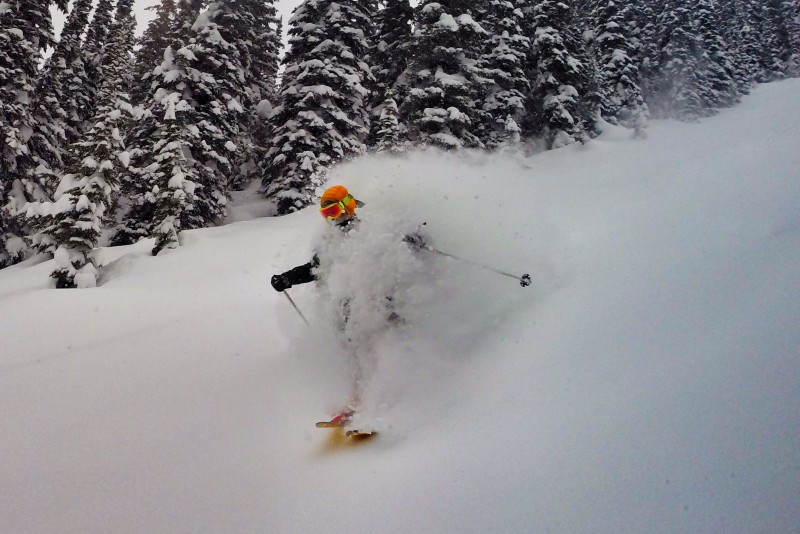 The options in terms of safe skiing, and good skiing became very limited. On thursday it looked like the temperatures were going to rise but only in the afternoon.
So I had dreams of skiing the burnt trees off Corbins pass. I headed there early and broke trail up 3000ft, knowing my boys were following I figured I would pull in a quick south lap before we headed higher and down the north side. My first run was fast and fun, but quite warm, very coastal type powder. I hooked back into the skin track and skinned up to the boys. Already the temperatures were rising but I had hopes of cooler snow. We broke trail up to the ridge and decided that it was warm and tough going so perhaps another south lap. By then it had gotten real warm, still fun though. Then skinning back up the dreaded "clumping" began. The snow started sticking to all sides of my skis, its one of the worst things. I can handle deep trail breaking but 10 lbs of snow stuck to the bottom, is extremely frustrating.
I swore and yelled my way up that track and finally wrapped down to the boys, by then they were ready to go. Which I completely understood. I ended up spending hours struggling up and down the mountain side. Finally 12950ft in I left.
With hopes of higher snow I drove up to the pass and found that the only permit areas that were open did not allow for alpine access. So i put in a track up to the top of Grizzly shoulder and skied back to the bottom. I quickly realized that the bottom half was too warm to be considered powder skiing, so I stayed up high and did 1000ft laps of west facing steep trees, which were super fun. An all day suffer fest and 13500ft later I got back to the truck.
Yesterday I based my decisions off the permit areas that would be "potentially" open, which made me waste at least an hour. By the time the zones were posted it was 725am, they didn't open loop brook so I ended up touring up the Asulkan, which I should have done an hour earlier; since it required no permits. I broke trail in and up to just below the cabin and ended up lapping the Tree triangle. Which was great skiing, just very stormy and lonely. These are not the days I was dreaming of when I set out to try the is month of madness. Although I knew that I would have some I hope that they are almost over. It snowed so much during the day that I swear it took me as long to break trail out as it did coming in. Super frustrating… and a below par day 9720ft….not happy with that but…what can I do…
Now I am taking today off since it rained so hard and I needed some family time and relax time… it does look like the good weather is coming… ohhhhhh yahhhhhh…. I hope that next week I can send some great lines through the mountains…I have some dreams for sure…
in