Fossil
Late yesterday afternoon I headed out to hike the 5500 feet needed to roll over to 1.3mil. I  headed up the slackcountry of Las Lenas and summitted Cerro Fossiles. Its called Fossiles because everything around here used to be under an ocean, and if you are paying attention you may be lucky enough to find a fossil. From that summit I toured around and up Cerro Martin. I made a poor choice and skied down a chute that was barely covered with snow, so lots of side slipping through the chute and then finally some great turns out the fan.
I toured back up and hit 1.3 million, and then skied home. I was so psyched to be at 1.3 that I rewarded myself with a good old fashion crash!  There is so little snow here that I should always ski the depressions, and gullies, but I wasn't thinking and tried to quickly ski across these flats. Going way to fast both my skis caught on rocks and I front flipped and rolled out of it through snow covered rocks. No real injuries, a few bruises but a definite reminder to pay attention around here.
Today I headed up the groomer to meet Jamie and Shanie at the top of the ski hill.  They were concerned with the warming trend and had decided on another plan, so we skied the north facing Sans Noms chute, a huge 3500 foot chute. There is so much wild terrain to be accessed off this hill, its a pity that this is the lowest snow season in 15 years and the 3rd lowest since 1983.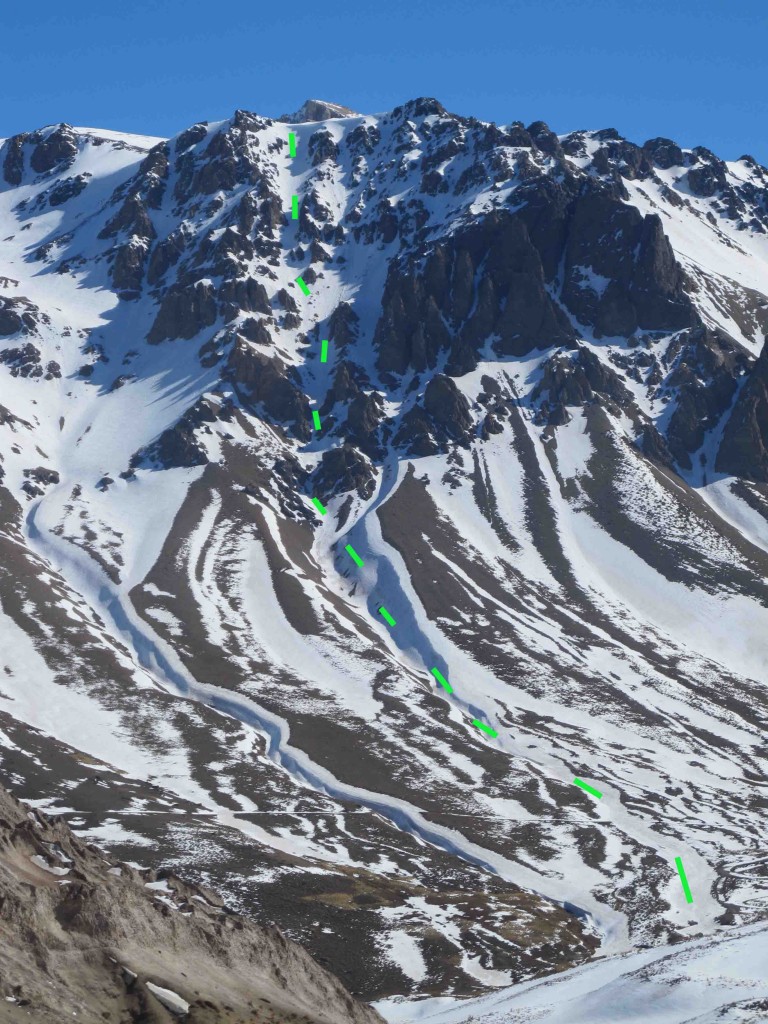 So after skiing Sans nom I was deposited at the bottom of Cerro Las Lenas, the highest peak around. I thought I had enough energy to add another 7000 to the 4000 feet I had already climbed, so I headed up. For hours I hiked up and around till I slowly realized that I was running out of motivation, food, water and time. So with at 12500 feet I turned around. While I was hiking down I was reflecting on whether or not I would try Las Lenas again, I decided that i would prefer to summit and ski off the peaks that have great ski lines and as I thought that I looked down and voila…..
How cool is it that you can find fossil at 12000 feet!!
The weather is hot and the snow is melting quickly, I have three more days here and I hope to climb and ski a few more cool summits and then off to Portillo for a day and then to the seaside for a few family days before they head back home.
in