Hitting the Himalayas with Hoji
So far this has been an adventure unlike any I have been on in the past.  I have come to the Himalayas for my first time and am being blown away by the culture, the people, the mountains and the altitude.
I managed to convince Beni Bohm that he should "hire" me to film his next 8000 m speed ascent. So now 10 months later I am in Nepal and just finishing up our first part of the trip. Instead of acclimatizing on Manaslu and spending 40 days on the same mountain it was decided that we would  go and climb Mera peak a 6470m mountain. This turned into a huge trip where 17 of us attempted to ski off the summit. About a month before I found out that Eric Hjorleifson was on the trip.
Eric and I have always talked about skiing together but somehow it has never happened, so it was ironic that we would finally ski together on a mountain that was higher than either of us had ever climbed.
We arrived in Kathmandu and I realized that this was the most third world place I have ever been. Everything is dirty, they burn their trash in the street, or leave it in huge rotting piles for the dogs to eat from. Electricity is random, all the things we take for granted are non existent.  The roads are chaotic, but since there are no rules everyone has to pay absolute attention and no accidents seem to happen.The first real challenge was to stay healthy and not get sick. Which involves not eating uncooked vegetables, drinking only bottled water,  frequently cleaning your hands and basically being a germaphobe.
Eric and I were lucky that Jim had lived here before and he showed us a few of the temples and cool places in Kathmandu.  Very beautiful and interesting things were seen.
Eventually the rest of the group joined us, who were all german, and we flew up to Lukla and started our trek into Mera peak.
I have never used porters and for this trip we had 40 nepalese helping us be successful on our trip. It felt very odd to give them our large lugguage, up to 30kg, while we hiked with a lot less. I carried all my camera gear but still the discrepancy was huge.  Any success on our trip would be solely due to their help. They are the true heros of any expedition through these mountains.
We began by hiking up to 3500m to a super cool little village of five rock buildings hiden up in the mountains. Our initial challenge was two river crossings, and the altitude. Eric and I both had small headaches but that was all.
Its still monsoon season and we decided on  bringing umbrellas, which turned out to be the best decision of the trip. The rain was a constant companion and thanks to the umbrellas we had a small  zone of comfort.
On our second day we hiked over a 4600m pass and I began to feel a strong headache. Living at 400m it wa a huge shock for my system. Soon enough I was hunched over and loosing my lunch. There was little that I could do but accept it and continue hiking down to our next little house.  The night went well, mostly since I don't have do do anything. Our porters carry everything, the cooks cook great meals for us and all we do is hike and enjoy. Enjoy the monsoon rain,,,
The next day was spent mostly hiking down and through a jungle, very moist and beautiful. No real views of the huge mountains just fog and river.. We worked our way through tiny hamlets, rock buildings; all handbuilt,  watched the Nepalese saw planks of wood, dry yak poop and basically survive in their harsh environment. It felt like walking through a museum and witnessing first hand how hard life can be, yet how happy they all are for their simplicity.
But their simplicity also leads to garbage everywhere, toilets built beside the river upstream of the town, things we assume would be well thought out are not.
Working our way up to our highcamp at 5400m took some time but along the way I got to film some cool timelapses and wild scenery.
So far it had rained at least half of everyday, yet seemed to clear up briefly at night. This trip is typically done in 21 days and we were doing it in 11, so we had one day scheduled for the summit..arriving at highcamp it was raining hard and my psyche was drowned out by my headache. So I napped all afternoon and at 4pm Hoji and I headed up to 5800m to get more acclimatized. The weather cleared and we saw Makalu and some other badass mountain.
we had to get so lucky the next day but with optimistic hearts and headachey minds we went to bed.
At 2 am we woke and started touring up in the dark, the weather started off poorly and improved as we rest stepped our way up to 6470m. As with all things, each step was followed by another and eventually we stood on the summit of Mera peak….boooyah….Hoji and I on the highest summits of our lives about to shred some mellow glacial run…. This was to be my first summit earned on Salomon skis and here I was on my highest summit about to ski off. pretty cool start… (that's Everest in the background)
And then I did a bunch of filming and we skied off and back to our loyal porters. Then it was followed by two days of intense rain and long hiking days. On our second to last day we crested a col and met up with three of our porters who were shivering in their cotton shirts, we lent them a jacket each so that they wouldn't get too cold..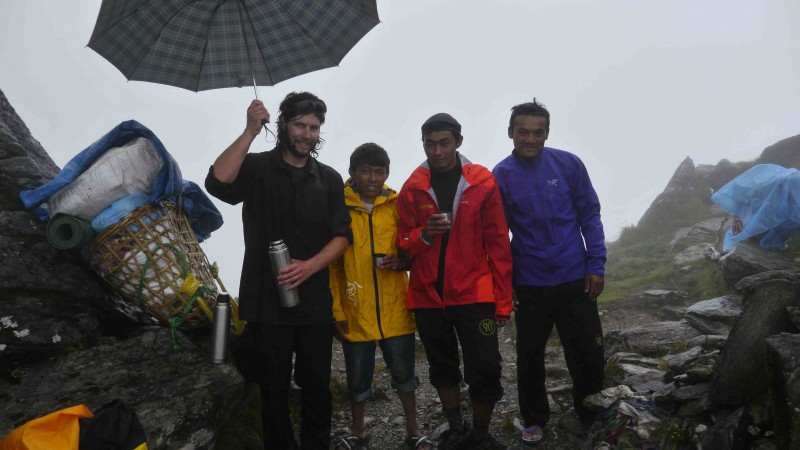 Through deeper rivers, monsoon rains we made it back to Lukla and flew down to Kathmandu… where I have been working my butt off editing, packing, skyping and finally blogging. Sorry this was a little lame and poorly written, but it was rushed its midnight and I am waking in 5 hours to ride a heli into the middle of nowhere…the next post will hopefully be a after a successful ski of Manaslu… so excited to see how hard it is to climb an 8000m peak… suffer fest  guaranteed.
thanks to eric for some photos, I would expect that we will end up doing more trips in the future, probably more powder than suffering at altitude though..
in