An affair with Victoria
With winter melting away from the Selkirks, it was time for an adventure in the Rockies. The Rockies are the best place to test oneself after a season of ski mountaineering in the Selkirks.
So Mark and I drove out to Lake Louise and met up with the gang around 9 pm. It was a varied crew, with Jon Walsh from Calgary, Lisa from Golden, Patrick from Bozeman, Chris from Colorado Springs and us from Revelstoke. Our objective was going to be the Sickle on Mt-Victoria

The lines off Mt-Victoria are huge and exposed, but the conditions appeared perfect. It had snowed 20 cms three days before and had some time to settle. Winds had remained light and it appeared to be stable.
At 4:45 am we all started hiking past Lake Louise and up into the death trap.


This  zone is highly dangerous, with obvious overhead seracs and hazards so we moved quickly through it. The sickle was hanging above the cliffs and tantalizing in the morning light. We toured upwards and soon enough Mark was skinning over the cliffs and towards our line. The further his skin track went the larger the cliffs were below us. Skinning across 40+ degree slopes with the cliffs below us getting larger and larger, I was almost paralyzed with fear.  If I started slipping there would be now way to arrest my momentum and I would go tumbling off the cliffs.  If I was to go flying off the cliff my plan was to starfish in the air, fully stretch out and  try and land on my face.  Perhaps falling from 300+ feet that this would be the best way to land, maximize the surface area and maybe the two feet of soft snow would cushion the impact.. In reality there is no surviving such a fall.
So I went through all the different reasons we were justifying this as being safe, the amount of snow, the sun just hitting the 20000 ft of snow above us,  the lack of crown lines in the mountains, lack of winds, present temperature. It all added up to  good stability and worthy of accepting the inherent risk of the line. Soon enough we couldn't skin anymore and it was boot packing time. The security of having my boots plunging deeper into the snowpack helped my confidence increase. I shelved all the fears, and realities of a mistake and felt lighter and free as we moved up the face.


The snow was soft and great for booting and we moved up higher and higher. It was deep in pockets, up to 40 cms and tough to walk up, as the steepness increased it lessened to 25 cms and was ideal. The snow was remaining cold and we were on the ridge in no time.Here is Mark and Lisa, with the true summit in the background.


A few great moments on the ridge and then it was shred time. Jon went first and we noticed that the slough was moving fast and furious so we would need to pay attention and ski away from our last turns. Such a perfect run lay below us that I could not contain myself and I skied fast and hard, slough following. Skiing away from my slough I was able to let it catch up and ski beside a wall of flowing snow, so much fun.

Jon's footage of me heading down, thanks for the shot Jon, if you want some real alpine radness check out his Blog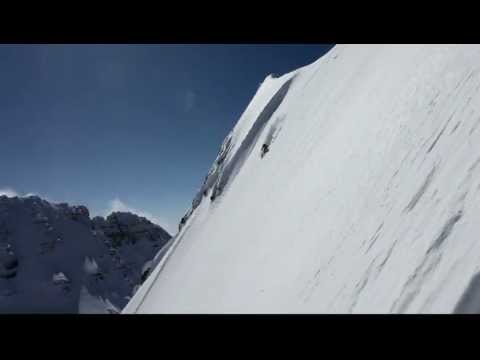 And here is Mark enjoying some of the same playful slough management.


We all had epic turns down the face and regrouped where it mellowed out. Then some fun turns lower down with huge drops below us. Good group management and we were all safely back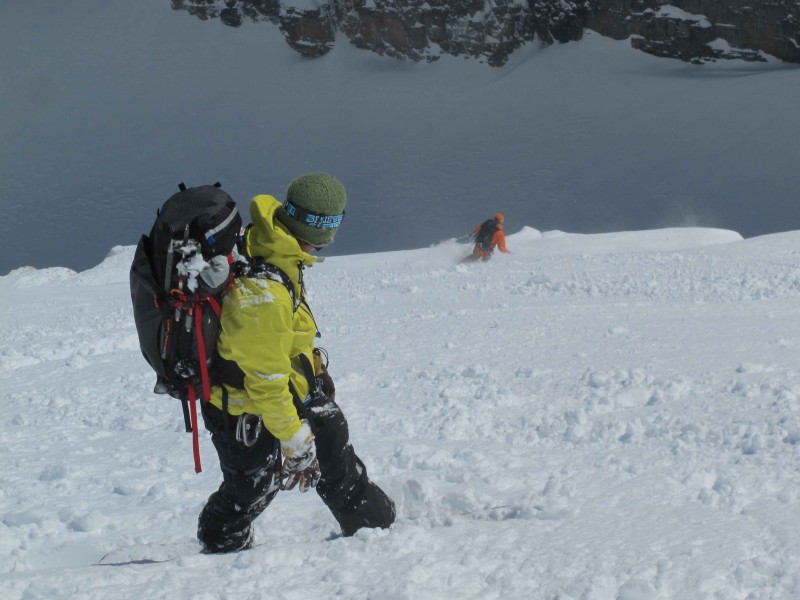 What an incredible day, such a super position.   With such a great start to our Rockies trip we couldn't decide on what to do next. Most of the group was leaving and it was only Mark, Patrick and myself. After having experienced such a perfect day we could not help but go back and see if we could ski off the summit of Mt-Victoria, At 3464m (11365ft) it is a pretty high mountain and very worthy of an attempt. So in the style we ride in I set up my bivy, stove ready and went to sleep.

Early the next morning, 4:15 am, we were off and touring. The day was going to get hot and we wanted to be off the face by 11. So with barely a break we skinned the 3 thousand feet to the base of the face.


It hung over us for hours as we worked our way to its base.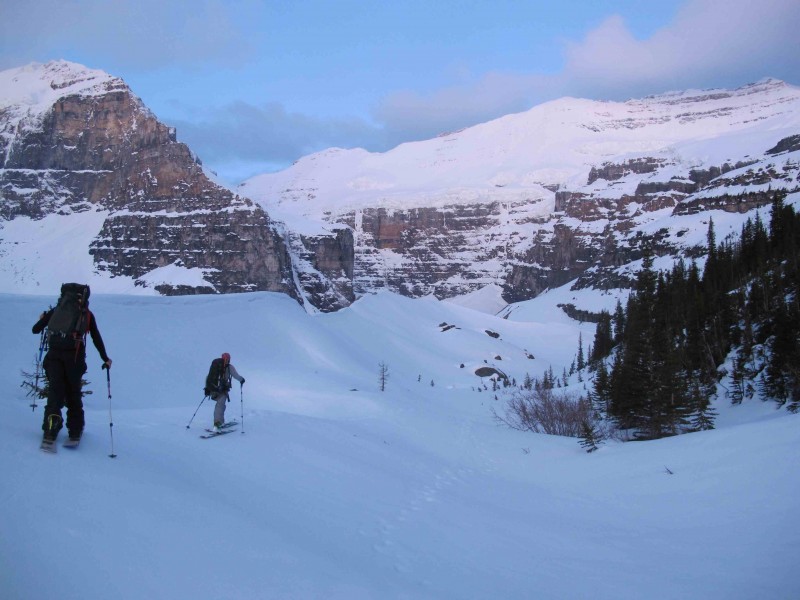 Such a dramatic place. Mark took this great picture of Patrick and I heading towards  the line.


We neared the line pulled out our axes and put on our crampons. I began booting up the snow, finding the easiest line it trended left and soon enough we were fully exposed and heading up the steep face. Again conditions felt perfect and we booted higher. Soon enough I was done and ready to follow Mark to the summit. 

He took over and in his quiet confident manner lead the boot pack upwards. It was steep 50+ and  continuous, unrelenting. I kept expecting it to lessen but it seemed to have a sting in its tail as we wallowed up the final pitches to the summit.


Mark had honors since he brought us up there and he snowboarded off. Second turn in a small slab popped and he skied away from it as it thundered down the thousands of feet and the cloud cascaded off the thousand foot cliffs below.


Adrenalized from the slab Marked went for it snowboarding the whole line and I followed. Amazing turns in a wild environment.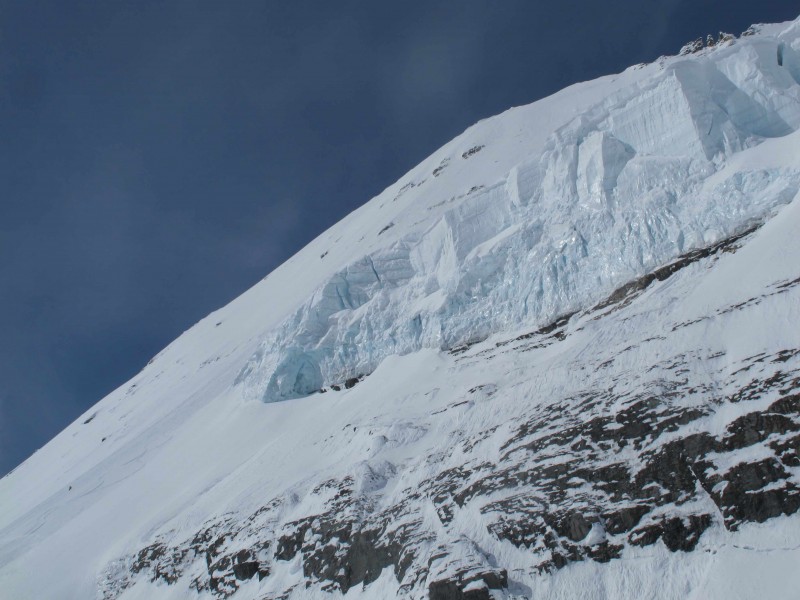 You can just see Patrick , he is the little dot on the left. Such impressive terrain, and so nice to ski away and look back at what we had just accomplished.

Having had two such epic days we couldn't decide on what we could follow that with. I saw a few photos of the sky ladder on Mt-Andromeda and I thought we should shoot for gold. Regardless of our success I needed to look up and see the potential of this line.
We got there late at night and it looked intimidating. A large section of the line was blue ice with a small ribbon of snow meandering around it. Although I wanted to get closer and take a look it only made sense to try and climb Mt-Athabasca and wait another day for sky ladder.

We headed up early and made our way upwards but high winds and some fresh slides tumbling off the seracs had us questioning our decision. So we turned and headed home. Could be our last turns of the year. I wonder?


What is so great about the world today is that we all run blogs or trip reports. So if you want Mark's Perspective or Patrick's check em out. they are both different views and great angles on our experience.
in