Ahhhh Albert
It's been a fairly terrible April in and around Revelstoke; especially tough with me skiing locally and blogging globally. So many days have had rain to the top or if not rain than clouds covering all the summits. Typically April is an amazing time to ski off the higher mountains and have some amazing adventures. But when its raining to the tops it kinda makes it hard to do anything that would be fun. So I have been waiting for the right times to get after it.
Part of my goal this spring is to double my garden. So while its been raining I have built two elevated garden boxes, adding 140 square feet of growing space. I really like the elevated boxes, because you simply cover the grass with cardboard, wet it down, add leaves on top, and wet those down. This creates a happy dark and wet area for the worms. Then I put well decomposed horse manure on top and some top soil and voila warm, super fertilized gardens.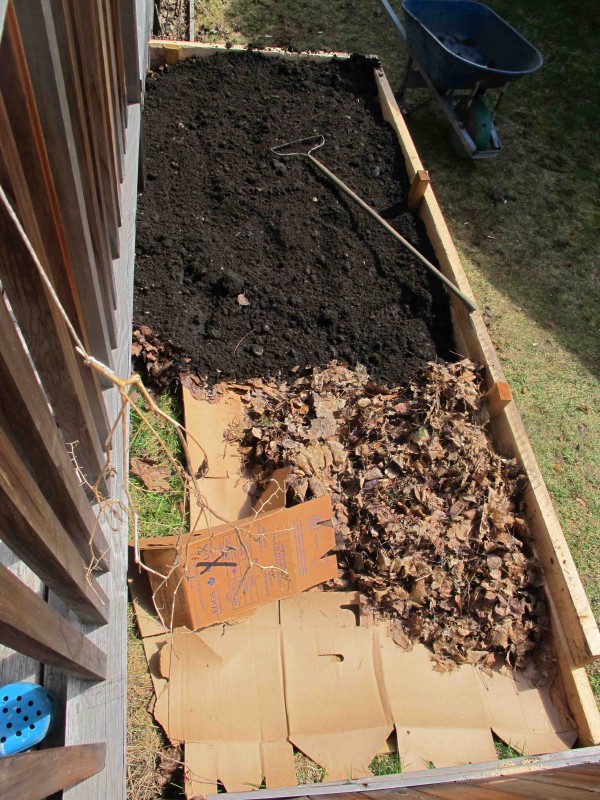 Anyways back to a serious adventure. After Frenchman's last weekend it rained, or was super cloudy all week. But finally it broke yesterday and we went for it. Albert Peak is the thirtieth highest mountain in the Selkirks and has likely never seen a ski descent. Or maybe it is the 57th highest peak, its kinda confusing when some mountains have 4 peaks and one mt-name.. Anyways it is one of the highest mountains visible from town and is 26 km away as the crow flies and seemed feasible to do in a day from Revy.
So at 2:25 am I started biking, 12 km of road and 4 km of logging road and I met up with Dave and Aaron. They drove in and we started hiking up the logging road, 4km of walking and we started skinning. But first we had to cross a small creek.
Its a rare morning when its 5 am and you are thigh deep in freezing cold water! We crashed through alders on the road for a few more km and then the road skinned a little easier. Another river crossing blocked our way. A rotten old bridge, lay crumpled across the river, huge rusty nails eyeing up our soft bodies, one sketchy log our only way across. So we ventured slowly across, possibly the most scared moments of the day.
From there we continue our slog up the logging road finally spotting the summit for our first time. From this vantage it looked pretty terrifying up there.
Then more hours of hiking, I assumed we would be doing a bunch of boot packing but somehow we kept skinning. By 10 am we were within 2500 ft of the summit and looking back it was obvious how far we had come.
By this point we are all completely punched but we knew that the end is near.
Looking at the route description in the Selkirks guide book it described the route as 3rd class, with lots of loose rocks. So we decided that it would probably be safer and more fun to climb it in winter conditions. This route was first ascended in 1909 and we were hoping for its first ski descent a hundred plus years later.
Things were super intimidating at this point, so we continued upwards. Like most things in life our imaginations make them larger and scarier than they are. Obviously this was scary but really it should be manageable, small steps forward, slowly breaking everything down into manageable little hurdles.
Luckily there had been a lot of convective clouds that had obscured the summit and kept it cooler. It was noon by now and the snow was getting warm but not warm enough to be concerned. If I could get us up past the first couloir and onto the ridge we would not be worried about the snow getting warm as we would be safe from overhead hazards. We were very lucky that it was not warm and soon we were on the ridge getting closer to the summit.
The ridge was very exposed but very much within our skill range and with axe in hand we booted higher. By now I was so excited I could hardly contain myself, Aaron was laughing at my enthusiasm. But I can't hold it back, after 11 hours of focus the feeling of almost succeeding is amazing.
Finally succeeding….ahhh so worth it. Seven years ago when we summited North Albert I looked up this ridge and did not believe I would go up it. At the time the other boys all talked tough like we could manage it, I wondered though. Finally 7 years of progression later and it was fairly easy, and we were going to ski right off the summit.
Ski or side slip depending on the exposure. There were some pretty exposed turns, but mostly side slips. Here are the boys syncro side slipping off the summit.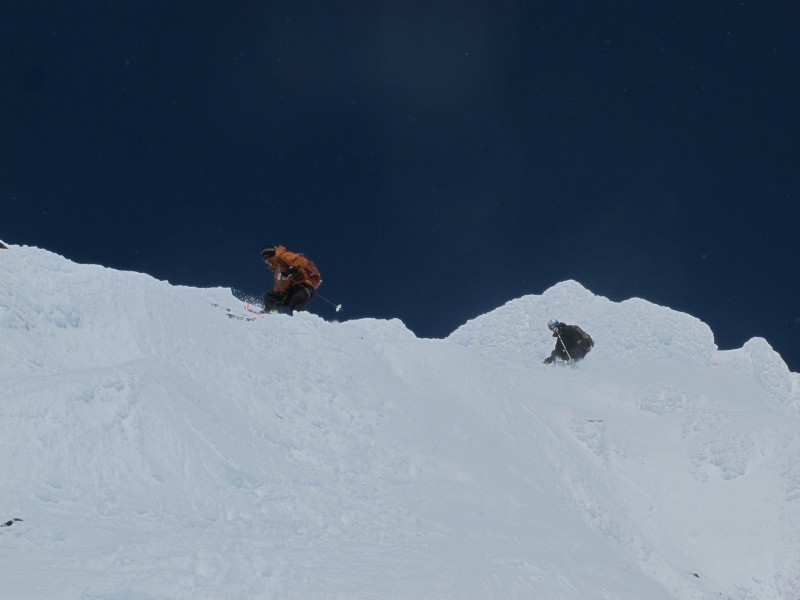 It was tempting to ski the direct line off the summit and down the couloir, but since things were warming up it was safer to follow our line back down. I often look at avalanche terrain like a fight in a bar, it is often easier and safer to fight the smallest guy.(not that I have ever been in a fight but I assume it is better to go for the smallest guy than the huge UFC brawler) So our line down the ridge approached the smaller terrain. By then it was warm and the new snow was warm and slab like and would avalanche down ahead of us. Not worrisome since we were working our way down from the top and moving all the snow ahead of us.
So nice to stand on terra firma, or at least be out of the terrain with serious consequences.Thousands of feet of skiing ahead, some decent spring skiing, some really warm with huge wet slides following every turn. The skiing back down the road, the river crossings in reverse, alder bashing and road walking all had us back at the truck by 6pm. I loaded up my bike and biked her home by 7, 16.5 hours after leaving.
65+ kms, around 10 000 ft of gain, a new summit, a new line. So worth it….sound asleep by 8:15
Here is a little go pro video, funny to think that each second is worth almost ten minutes of activity, or that 16.5 hours can be compressed into 1m,45sec…

in